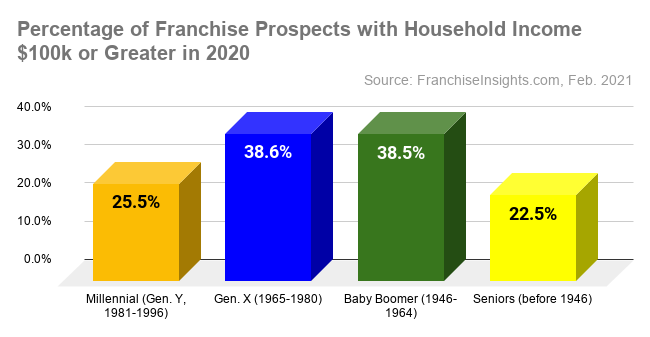 Feb. 24, 2021 – More than a third of prospective franchisees earned household incomes greater than $100,000 in 2020, a relatively stable percentage despite the pandemic's effect on employment for the better part of the year.
For this analysis, Franchise Ventures scored its pool of investment inquiries with demographic data from Alliant, a leading provider of U.S. consumer audience targeting and data enrichment and predictive analytics.
Overall, 35% of new-investment prospects in 2020 had  estimated household income over $100,000. That's down slightly from 37% in 2019.
Generation X, ages 40 to 55, represents almost half of all franchise prospects, and had 38.6% maintaining $100,000+ household income last year, down from 41.2% in 2019.
Baby Boomers, ages 56 to 74, comprise a quarter of aspiring franchise owners, and are on par with Gen X for […]

This is a good morning for franchisors!
This morning, the Financial Accounting Standards Board (FASB) voted 4-3 to adopt a "practical expedient" for private franchisors". This means that private franchise brands will be able to accurately and correctly reflect their revenue on their balance sheets in a way that works for the business model.
We will provide more information as developed.
Our gift to you: an Emotional Intelligence Workshop!
Tortal is pleased to present this FREE workshop with our own Evan Hackel.

We're hosting the event on December 2, 2020 | 6:30-9:00 p.m. Eastern | FREE! Virtual Event via Zoom

This won't be a typical training workshop. This workshop is going to focus on connecting with your e·mo·tion·al in·tel·li·gence: your capacity to be aware of, control, and express your emotions, and to handle interpersonal relationships judiciously and empathetically (according to the Oxford dictionary).

Embracing the Unknown will help you learn how to move your life forward in the chaotic world we currently live in.

RSVP TODAY:  https://www.tortal.com/embracing-the-unknown/
Here are the event details:

December 2, 2020 | 6:30-9:00 p.m. Eastern |  FREE! Virtual Event via Zoom
Embracing the Unknown with Evan Hackel

Life is an amazing opportunity. Sometimes it may not feel that way. In this workshop you will learn how to […]

The Franchise Activation Conference

December 2nd – 3rd  

As a longtime IFA member and FBN supporter in Denver, LOCALACT is excited to share the news that we've partnered with the International Franchise Association and Google to launch an inaugural virtual event for franchisees:

Given all of the changes that have occurred in franchising throughout 2020, we are bringing together several leaders from our world to discuss a variety of topics that impact individual business owners at a local level, including marketing, public policy, governmental affairs and more. Our goal is to provide attendees with key takeaways and action items that they can use to help set their businesses up for success in 2021. Registration is free for anyone who would like to participate, we hope both you and anyone else interested within your business network can join us in December! Complete details and agenda are included at the link above.

Interested in aligning […]

Are you tired and looking for a way out?

As you emerge from survival mode and begin to put your life and your business back together, do it with your exit in mind!

You deserve to live the life you desire AND get a return on your capital and years of hard work.

Whether you want to sell your business to an insider or to an outside buyer in two years or 10, you have to restore profitability and business value.

In order to do this, you will need to change your mindset and think like a buyer! This workshop will show you how.

The current crisis is just one more reminder that as business owners, we can't simply pick a retirement age. Unless you want to liquidate, […]

AUGUST 25 – 27, 2020

VIRTUAL SUMMIT FOR THE FRANCHISE COMMUNITY

The H.E.A.T. is ON

Recognizing the importance of planning for success and being prepared for what we will need to do, we organized the HEAT Franchise Summit.  It is all about preparing for the future and focusing on growth and profitability.

H.E.A.T. is where innovation fuels momentum. Where energy and ideas spark solutions. It's how we harness the power of our community to drive business forward in franchising's brave new world. Join us for three days of insight from professional speakers, industry experts, franchisees, key suppliers and your peers, as well as actionable ideas you can use in hosting your own future virtual events. This is not a webinar, it is a virtual event unlike any other, with technology that lets you move in and out of rooms just like an in-person event—every space is optimized for networking and connecting.
"Be My Own Boss" Continues to Rank as No. 1 Motivation in Small-Business Ownership Survey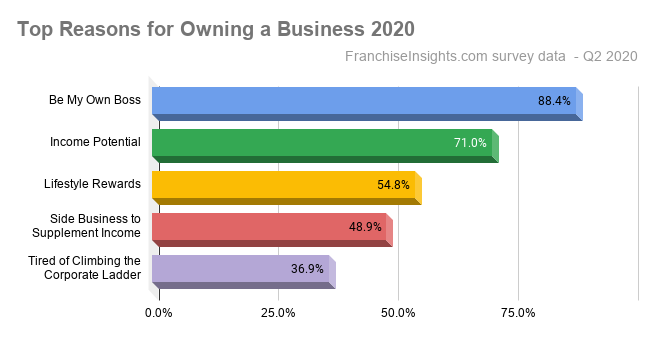 The pandemic has not changed the primary drivers of business ownership — independence and controlling your own destiny remain the most powerful motivations for owning a business. In fact, working for oneself is the No. 1  reason cited by entrepreneurs researching ownership across the leading  network of online franchise information directory brands. 
"Be my own boss" was the No. 1 reason selected when asked "Why do you want to own your own business?", with 88.4% of the responses in Q2 2020. That's down slightly from 86.7% in Q1, but the same response rate as Q4 2019.
The survey allowed multiple responses, and many entrepreneurs also selected "Income Potential" as an additional reason – it ranked a strong No. 2, with 71% […]