Are you tired and looking for a way out?
As you emerge from survival mode and begin to put your life and your business back together, do it with your exit in mind!
You deserve to live the life you desire AND get a return on your capital and years of hard work.
Whether you want to sell your business to an insider or to an outside buyer in two years or 10, you have to restore profitability and business value.
In order to do this, you will need to change your mindset and think like a buyer! This workshop will show you how.
The current crisis is just one more reminder that as business owners, we can't simply pick a retirement age. Unless you want to liquidate, […]
AUGUST 25 – 27, 2020
VIRTUAL SUMMIT FOR THE FRANCHISE COMMUNITY
The H.E.A.T. is ON
Recognizing the importance of planning for success and being prepared for what we will need to do, we organized the HEAT Franchise Summit.  It is all about preparing for the future and focusing on growth and profitability.
H.E.A.T. is where innovation fuels momentum. Where energy and ideas spark solutions. It's how we harness the power of our community to drive business forward in franchising's brave new world. Join us for three days of insight from professional speakers, industry experts, franchisees, key suppliers and your peers, as well as actionable ideas you can use in hosting your own future virtual events. This is not a webinar, it is a virtual event unlike any other, with technology that lets you move in and out of rooms just like an in-person event—every space is optimized for networking and connecting.
"Be My Own Boss" Continues to Rank as No. 1 Motivation in Small-Business Ownership Survey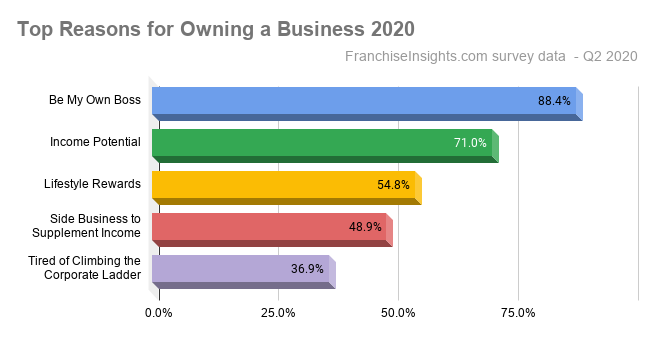 The pandemic has not changed the primary drivers of business ownership — independence and controlling your own destiny remain the most powerful motivations for owning a business. In fact, working for oneself is the No. 1  reason cited by entrepreneurs researching ownership across the leading  network of online franchise information directory brands. 
"Be my own boss" was the No. 1 reason selected when asked "Why do you want to own your own business?", with 88.4% of the responses in Q2 2020. That's down slightly from 86.7% in Q1, but the same response rate as Q4 2019.
The survey allowed multiple responses, and many entrepreneurs also selected "Income Potential" as an additional reason – it ranked a strong No. 2, with 71% […]